TERMS:
Minimum order of bare root rhizomes is $25.00 plus shipping charges.
Click here for current shipping costs.
We require payment for amount of order when order is placed. We accept credit cards or PayPal on the website only. Orders may also be placed when you visit the garden or by mail. California residents must add 7.75% sales tax. We will accept orders through June 25. All orders must be received by June 25. Only one shipping address per order form. Internet mail orders will be confirmed via email upon receipt of payment with order. Some varieties sell out early so it's always best to order early as orders are filled on a first come, first served basis. Rainbow Assortments are limited to 2 per address or person.
SHIPPING:
We dig and ship orders July and part of August on a first in, first out basis. If you need a specific shipping date please indicate on your order. However, we cannot promise shipment of orders past the first half of August. No pickup orders. All orders are shipped within a couple of days of digging via UPS or USPS. For the larger orders going to the east coast during the summer heat it is sometimes advisable to use expedited shipping. If you would like to use expedited shipping please contact us for a quote. Please give complete address, directions, telephone number and email address with each order.
EXTRAS:
As a
thank you
for your order we try to include a free iris or irises. These will be our choice based on the size of your order and availability. Sorry, no free iris with Rainbow Assortments, specials or gift orders.
SUBSTITUTIONS:
We don't substitute without your permission. In case of varieties that may sell out, if we may substitute, please indicate on order form. Please list any alternatives or if we may substitute with a variety of equal or greater value. Otherwise, we will issue you a refund with your shipped order.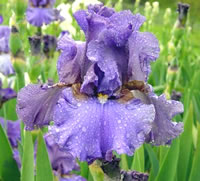 PLANT QUALITY:
We are state inspected and we guarantee plants to be properly named and healthy at the time of shipment. Your shipment of bare root rhizomes will arrive ready to plant with leaves and roots trimmed. Upon receipt of your order if for some reason you are not satisfied please let us know as soon as possible and we will do our best to correct the problem. Obviously, we cannot be responsible for extremes of weather or your growing conditions. However, should you lose a cultivar under reasonable growing conditions, please let us know when you place your order the following year and we will include it or a similar variety with your shipment. If you must store the rhizomes for a short period of time before planting, please keep them in a cool, well ventilated location.
Prices are subject to change.
IT IS ALWAYS BEST TO ORDER EARLY!
Click here for current shipping costs.